Check out the modern hymns, praise songs, and hymnal music,
used in our weekly Sunday Worship Service.
Archived Worship Services / Sermons
View some Worship Sermon Vignettes
Check out other Activities and our Building's Status
Information about other Online Meetings
---
Meet our Sunday Worship Service Volunteer Teams:
Friendly Greeters meet, greet, welcome, and assist everyone entering the church through the main entrance before Sunday Worship. In the lobby we have a welcome center, stocked with informational handouts, and we have something special to present to first time visitors.
Ushers pictured above, serve us before and thorough-out the Worship Service at the main doors to the Sanctuary from the Narthex. Besides also meeting, greeting, and assisting worshipers, they hand-out bulletins and other related information, assist folks in finding seating, and collect and secure the tithes and offerings. In the Narthex there is also an information table and magazine rack worth checking out.
Good News team members are available immediately following the Sunday morning church service in a classroom just off the lobby. They are prepared to answer any questions attenders might have about LRPC, our church worship service, the sermon message, or any other related questions. Our teams are also very anxious to share, if you are interested, how they personally came to believe in the gospel (Good News) message of Jesus Christ, and why and how you can too.
---
Join Pastor David on a brief video walk around our property
Praise, Prayer Walk, and Picture
Words of Encouragement recorded during our building shutdown
---
Our Building Status, Direction to
and Property View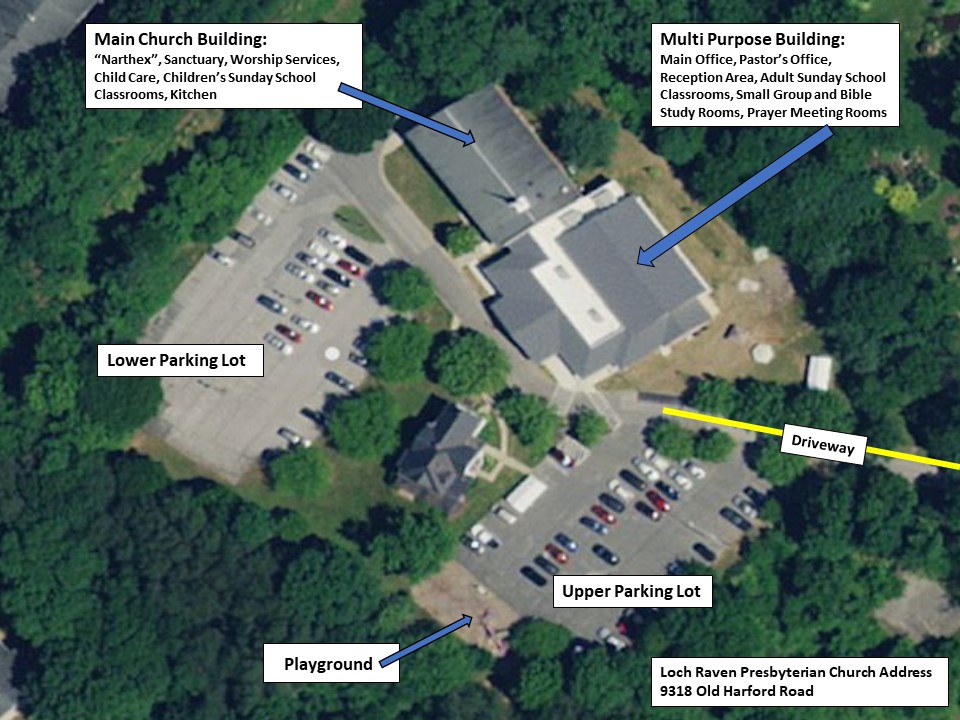 Map Coordinates || Get Directions
9318 Old Harford Road | Parkville, MD 21234
(410) 661-5777 || [email protected]
We are about 1 mile north from the intersection of Old Harford Rd. and Joppa Rd & 1/2 mile past Pine Grove Middle School. Our entrance is marked with our church sign(s). The church is down the long paved tree-lined driveway. You'll find plenty of parking spaces!
---
Visit us! | Are you? | We are… | Inquiries? | Rate Site!
Navigating Our Website to Locate Content
See also our website map of menu items