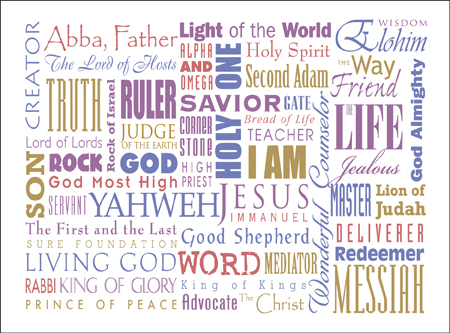 The Lord is My Peace
Judges 6:23 is considered one of the references for the name of Jehovah Shalom. The book of Judges is the seventh book in the Old Testament. The number '7' points to peace. The Lord said to Gideon: "Peace be upon you, don't be afraid, you will not die!!" The story of Gideon starts when the Israelites did evil in the eyes of the Lord, so he sent them a prophet who encouraged them not to be afraid of the gods of the Amorites who were living in their land.
The angel of the Lord appeared to Gideon and said, "The Lord is with you, mighty warrior." "Pardon me, my Lord", Gideon replied, "but if the Lord is with us, why has all this happened to us? Where are all his wonders that our ancestors told us about when they said, 'Did not the Lord bring us up out of Egypt?'" The Lord turned to him and said, "Go in the strength you have and save Israel out of Midian's hand. Am I not sending you?" "Pardon me, my Lord," Gideon replied, "but how can I save Israel? My clan is the weakest in Manasseh, and I am the least in my family." The Lord answered, "I will be with you and you will strike all the Midianites, leaving none alive." So Gideon built an altar to the Lord and called it The Lord is Peace (Jehovah Shalom). (Judges 6:1-14).
How did Gideon call this altar Jehovah Shalom, while Israel was under the rule of the Midianites? The almighty God who said, "Peace I leave to you, peace I give to you," is the one who was able to do this. Then the rest of the story of Gideon is where he conquered his enemies with an army of 300 soldiers. In Judges 8:28, it says, "Thus Midian was subdued before the Israelites and did not raise its head again. During Gideon's lifetime, the land had peace forty years." The world needs this peace today and, moreover, the world needs the Lord of Peace (Jehovah Shalom).
Today, our world theme is "the means justify the goal," and the limitation between right and wrong becomes unclear. This is the dominant feeling in general relationships: if you feel that you like something, do it right away to satisfy yourself. Man became the center of thinking and the production tool. Greed, lust, and pride are ways that appear to man as being straight, but the consequences of greed, lust and pride are the ways of death. We have to live our Christian lives every day according to what Paul said in 2 Corinthians 15:57-58: "But thanks be to God! He gives us the victory through our Lord Jesus Christ. Therefore, my dear brothers and sisters, stand firm. Let nothing move you. Always give yourselves fully to the work of the Lord, because you know that your labor in the Lord is not in vain." Also, Mathew 6:33 says, "But seek first his kingdom and his righteousness, and all these things will be given to you as well."
God did not promise us a rosy and easy life, but in John 16:33, he said clearly, "I have told you these things so that in me you may have peace. In this world you will have trouble but take heart I have overcome the world." Isaiah 9:6-7 says, "For to us a child is born, to us a son is given, and the government will be on his shoulders. And he will be called Wonderful Counselor, Mighty God, Everlasting Father, Prince of Peace. Of the greatness of his government and peace there will be no end. He will reign on David's throne and over his kingdom, establish-ing and upholding it with justice and righteousness from that time on and forever." And in Acts 10:36, it says, "You know the message God sent to the people of Israel, announcing the good news of peace through Jesus Christ who is Lord of all." From all of this we realize that Jesus Christ is our Peace (Shalom).
Also, in Roman 5:1, we have, "Therefore, since we have been justified through faith, we have peace [Shalom] through our Lord Jesus Christ." And Colossians 3:15 says, "Let the peace of Christ [Jehovah Shalom] rule in your hearts, since as members of one body you were called to peace, and be thankful." If you want to have over-whelming real peace, you have to look for Jesus and put your trust in him because He is the Lord of Peace.
Isaiah 32:17 says, "The fruit of that righteousness will be peace; its effect will be quietness and confidence forever." John 4:34 says, "'My food,' said Jesus, 'is to do the will of him who sent me and to finish his work.'" Jesus did not say at any time that the peace is for any price, because there should be righteousness with the peace, as it is written in Jeremiah 6:14: "They dress the wounds of my people as though it is not serious. Peace, Peace they say, when there is no peace." And Isaiah 57:21 says, "'There is no peace,' says my God, 'for the wicked.'"
We also see that peace is part of the fruit of the spirit in Galatians 5:22: "But the fruit of the spirit is love, joy, peace…." Here are other verses in the Bible that talk about peace and Jehovah Shalom, (the Lord is my peace), which you can read, review and meditate on:
Finally, brothers and sisters rejoice! Strive for full restoration, encourage one another, be of one mind, live in peace. And the God of love and peace (Jehovah Shalom) will be with you.
Therefore, since we have been justified through faith, we have peace with God through our Lord Jesus Christ. For he himself (Jesus) is our peace (Jehovah Shalom), who has made the two groups one and has destroyed the barrier, the dividing wall of hostility. He is our Jehovah Shalom.
How beautiful is Jehovah Shalom – the Lord our Peace.
"The Names of God" Bible Study meets on Thursday at 1:30 pm. ALL ARE WELCOME!
NFW – 02/10/2022