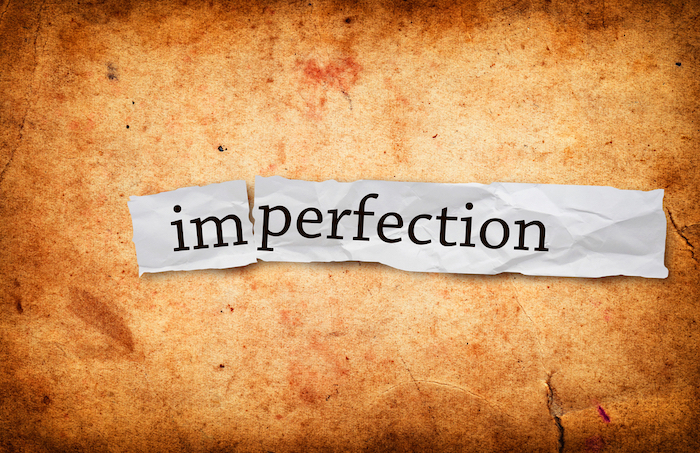 Fighting with our spouses…criticizing rather than helping a neighbor…putting ourselves in debt by buying impulsively…not telling the checkout clerk that he forget to scan some items…gossiping about friends…lying…. Our flaws and failures are real. We are imperfect and often behave that way.
The Bible has many examples of imperfect beings. Abraham impregnated his maidservant Hagar then rejected her and his son, doing nothing as she was driven away by the harsh treatment by his wife Sarah. Moses killed a man in cold blood and didn't want to return to Egypt when God called him to do so. David slept with the wife of one of his soldiers and raised one son who was a rapist and another who was a murderer. Rehab was a prostitute. Peter denied Jesus and watched Him be falsely accused. Despite their imperfections, God used these individuals in powerful ways. He will likewise accept and use us despite our imperfections.
This isn't to say that we don't try to be our best and live a life that glorifies God. It is important that we regularly reflect on our lives and be honest about our imperfections.
Examine yourselves, to see whether you are in the faith. Test yourselves.
Or do you not realize this about yourselves, that Jesus Christ
is in you?—unless indeed you fail to meet the test! (2 Corinthians 13:5)
Once identified, we should consider ways to improve, asking for the Lord's forgiveness and help in doing so. He knows we live in a broken world and are broken people. He does not demand perfection from us. We are saved by His grace
But he said to me, "My grace is sufficient for you, for my power is made perfect in weakness."
Therefore I will boast all the more gladly of my weaknesses, so that the power of Christ may
rest upon me. For the sake of Christ, then, I am content with weaknesses, insults, hardships,
persecutions, and calamities. For when I am weak, then I am strong. (2 Corinthians 12:9-10)
It also is important to remember that just as we are forgiven and accepted with our imperfections, we need to show compassion in forgiving and accepting the imperfections of others.
Put on then, as God's chosen ones, holy and beloved, compassionate hearts,
kindness, humility, meekness, and patience, bearing with one another and, if
one has a complaint against another, forgiving each other; as the Lord has forgiven you,
so you also must forgive. And above all these put on love, which binds everything
together in perfect harmony. (Colossians 3:12-14)
---
The OTHER Serenity Prayer by Eleanor Brownn
God, grant me the serenity to stop beating myself for not doing things perfectly, the courage to forgive myself because I'm working on doing better, and the wisdom to know that you already love me just the way I am.