SCAM, a dishonest scheme; a fraud. Don't be a fraudster!
Phishing is the fraudulent identity practice or scam of sending emails purporting to be from reputable companies in order to induce individuals to reveal personal information, such as passwords and credit card numbers for dishonest gains. Unfortunately this is not the biblical kind of fishing done by Christians to share Jesus with mankind, it's a phishing scheme from devilish men seeking to upset your world. But then I digress…
There are many websites that can provide additional and more specific details about how to not be scammed. I'd suggest that you check-out the SCAM information found on the Federal Trade Commission website. Also most major organizations provide online information about how to not be scammed and if scammed, what to do. Many times the steps needed to resolve an identity theft like this are tedious, time consuming, and perhaps expensive.
Two Real-Life examples of Phishing
I received such an email, and although it looked official and very appealing to me [Misplace your debit card? Pause it – then turn it on again when you find it], DON'T DO IT — IT 'S A SCAM! This is an example of a Phishing email used to steal from mankind (me) my identity, by asking me to click on a button or link and then provide credentials, in this case for my bank account!!. Check it out below.
Hopefully, Verbum sapienti sat est — a word to the wise is sufficient. Remember do not open attachments, click on links, or respond to emails from suspicious or unknown senders. Also be very careful when clicking on links even from known sources. Known sources may be infected with a virus, and then unknowingly send you links to malicious websites.
This email came in from a bogus email address with some seemingly valid components: [email protected] is a bad email address for Wells Fargo, it should have been wellsfargo.com but one might have missed that. Please check out the links WITHOUT CLICKING on them. Simply Hover the mouse pointer icon over a link or button to see the underlying address in a pop-up window.

Notes: Any link to a financial organization should always be using a secure address using a https NOT http as shown in the pop-up box above. These instructions are for my PC using Windows 10 and an Outlook email client. Other hardware and software may look a bit different and have different procedures. Below is some information to identify underling link addresses and preview the page using an iPhone.
Another tip is do a search (like with google) for the organization's official website to see their domain identifier and also how to report suspected fraud. In this case their official secured domain (see the lock below) is wellsfargo.com (highlighted in yellow). Normally links to pages on their own website use the domain name., like https://www.wellsfargo.com/privacy-security/fraud/report/
Please be very careful out on the internet's information highway. When in doubt verify

---
---
The second scam example
This phishing email (see below) seemingly KHOL'S is telling me that I successfully ordered something — when I know I didn't! It is baiting me to click, maybe I forgot I ordered something, or someone in my household did. It's easy to check by clicking the "fraudulent" link ekwihs – CLICK HERE. But I, hopefully like you would be smarter than to fall for this old phishing trick, by hovering the mouse over the link, to see the underlying link address, which is suspicious. I would have expected to see https://kohls.com/…. So to save time rather than correctly reporting this fraud attempt to KOHL'S and then delete the email, I'd simply use one of the other three links they provided to: Unsubscribe, Report Spam (LOL), or Unsubscribe. AGAIN DON'T DO IT — remember this entire email is a scam.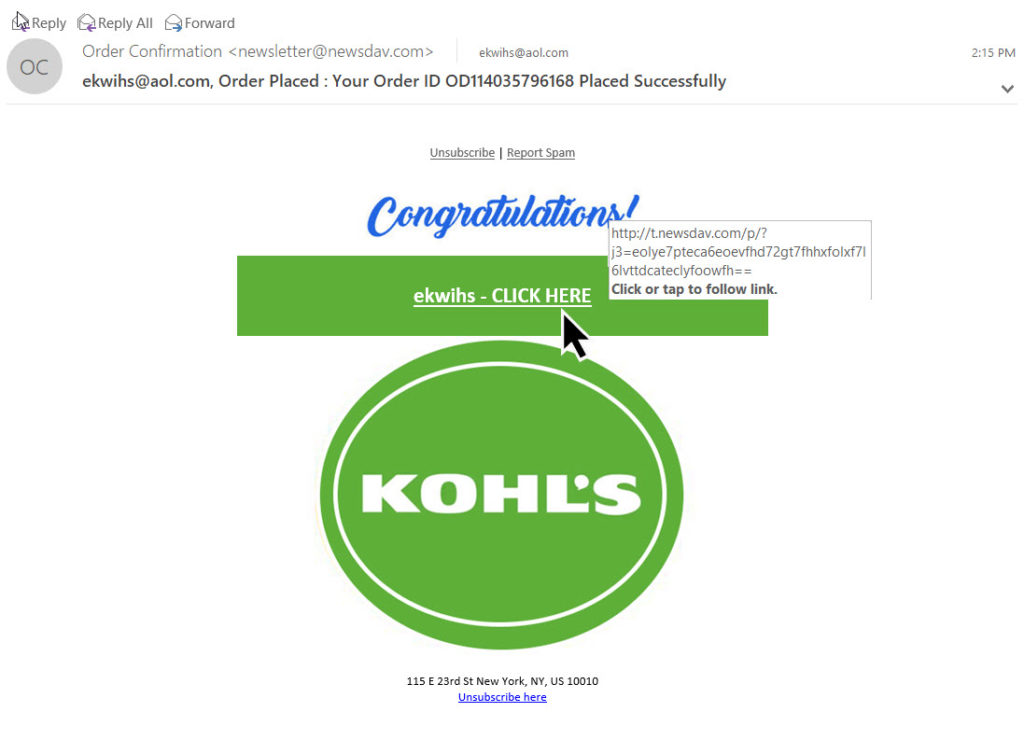 ---
---
Additional notes if using an iphone
How to identify on an iPhone the underling web link addresses to a web page and safely test/preview that page.
Depress & Hold (NOT TAP) on text with an underlying link to see (on the left) the website domain is lochravenpca.org and the link address is starting with https://www.lochravenpca.org/posts/…..
You can also at (2) "Tap to show (as safe page) preview", shown at the bottom.
Here you can Tap at (3) "Hide Preview" and return to the previous display or on either page Tap Open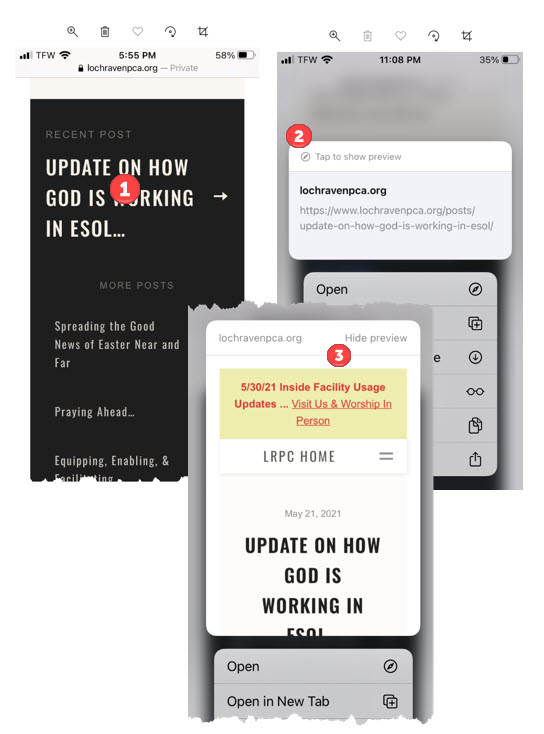 ---
online shopping scams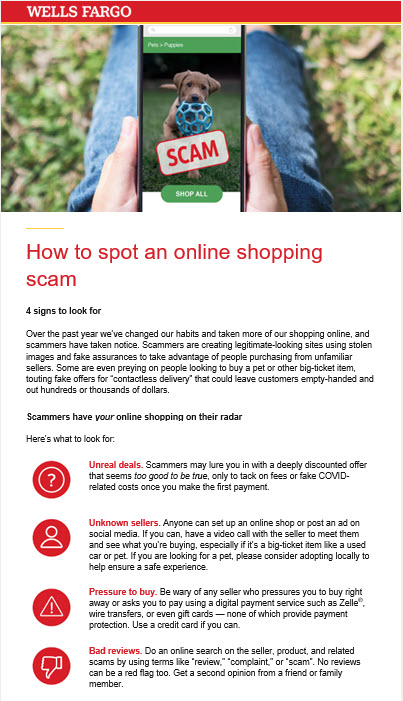 ---
---
God word provides us much counsel about not being dishonest ourselves
Don't be a fraudster – Stay Vigilant in God's Word.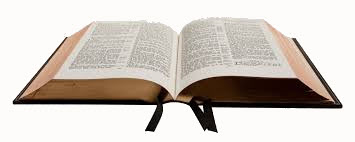 Fraudsters might get away with it but remember God is not mocked. — Do not be deceived: God is not mocked, for whatever one sows, that will he also reap. Galatians 6:7 ESV
We need to Love our neighbor better than ourselves. — "You shall not steal; you shall not deal falsely; you shall not lie to one another. Leviticus 19:11 ESV
Be Vigilant – Be of sober spirit, be on the alert. Your adversary, the devil, prowls around like a roaring lion, seeking someone to devour.
See also: 25 Important Bible Verses about Fraud and Identity Theft
Ops, did you first check-out that link out before blindly clicking it? Well you might ask how? On a website page the pop-up window mentioned above is not normally displayed the same but, if you hover over the link, check-out the lower left hand corner of the display and you should see the address.

Enough for now, I hope this brief scam alert tutorial was helpful.
---
See also Church(i) menu link at bottom of all LRPC website pages