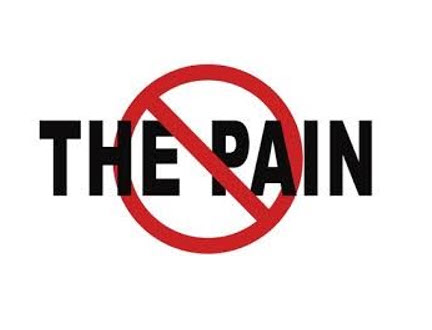 "The night racks my bones, and the pain that gnaws me takes no rest."

Job 30:17 ESV
I had not realized how much trouble a tooth could be! The pain was excruciating, and it has made me ex-ceedingly thankful to God for the relief that came from the antibiotics, the pain medication, and, finally, the extraction. But all of it was over relatively quickly. I have been pondering the chronic pain that many suffer from without hope of relief. And what about those whose illness or injury has resulting in permanent disability? Those thoughts have put my pain into perspective.
My recent trial has also reminded me of the blessing of feeling pain. When I had the opportunity to spend part of the summer working with my Aunt and Uncle in Thailand I learned a lot about the dreaded disease leprosy. My mother's sister had gone to the mission field with Overseas Missionary Fellowship in 1969 as a nurse and worked in a hospital in southern Thailand where she met my Uncle, a Thai Christian who had leprosy. I had not realized that leprosy kills the nerves and that one of the more dangerous aspects of the disease is that one can't feel pain! So, for instance, if you burned your foot and did not see it, you wouldn't know it and that wound would easily get infected and might lead to amputation. In how many ways might pain be a gift from God?
As C. S. Lewis so memorably put it in his book, The Problem of Pain, "God whispers to us in our pleasures, speaks in our consciences, but shouts in our pain: it is his megaphone to rouse a deaf world." Our pain gets our attention. The question then becomes, where do we look?
When my pain reached such a level that I could not even read, I found comfort in several Scripture passages that I had memorized long ago and could repeat. I could pray the Lord's Prayer even when it was hard to formulate my own thoughts coherently. And I was comforted by knowing that many others were praying for me—Oh Lord, may I be as constant in prayer for others in pain now that mine is alleviated! I am so grateful to God that we are a PRAYING Church Family. May we be encouraged and helped to continue to uphold oth-ers in prayer, not only in crises, but also when the suffering is chronic.
Our great hope as Christians is not only that in heaven there will be no pain, but also that Jesus Christ our Savior walks with us in our pain. He knows what it is to suffer and He will never leave us or forsake us. Even when we have no idea why we are suffering (remember Job), or see no end in sight, He loves us and cares for us.
He will wipe every tear from their eyes, and death shall be no more, neither shall there be mourning nor crying nor pain anymore, for the former things have passed away.

Rev. 21:4 ESV
Here is a list of books you may find helpful (the first two are fairly short, under 50 pages):
Esther Smith, But God, Wouldn't I Be More Useful to You If I Were Healthy?
Esther Smith, When Chronic Pain & Illness Take Everything Away.
Paul Brand and Philip Yancey, The Gift of Pain.
Dave Furman, Kiss the Wave: Embracing God in Your Trials
Paul Tripp, Suffering: Gospel Hope When Life Doesn't Make Sense.
Kelly Kapic, Embodied Hope: A Theological Meditation on Pain and Suffering.
Timothy Keller, Walking with God through Pain and Suffering.
---
One of the blessings of receiving and reading Missionary prayer letters is that you hear testimonies you otherwise wouldn't; such was the case for me recently and I want to close with sharing one with you. As you know, the Para-lympics was recently held in Tokyo. Some MTW missionaries sent this beautiful story:
"I never really watched the Paralympics before," a Japanese friend wrote, "but I was deeply touched by how whether athletes won or lost. They smiled and showed thankfulness to people who helped them on their journey." I've heard many Japanese say something similar. Paralympian stories of faith and courage to overcome adversity and prejudice are inspiring.
Anika Pretorius, a visually impaired athlete from South Africa, came in fifth place in the women's 100 meter in the Tokyo Paralympic Games. She has battled injuries her entire running career, including torn cartilage and bone bruising that prevented her from competing in the 2016 Paralympic Games in Rio de Janeiro. In a japan1million prayer gathering, Anika shared about the experience and what it taught her to walk by faith and not "by sight."
"Thank you for praying for the Paralympics and Paralympians because that is where the battle is fought … After the competition, the moment when all the messages from friends and family came to my cell phone, and those who'd walked the journey with me, I was just overwhelmed. This gesture showed me something about God's grace. Not one of those people sent me a message be-cause I won a medal. Every one of those people who watched me run, who was part of my journey, sent me a message because they loved me as Anika. God opened my eyes to see that he loves me and every one of his children not because of what we do but because of what Jesus has done. Not because we are #1 on the podium but because of God's grace … If I got #1, 2, 3, I would think these people love me because I got #1, 2, 3. God wanted to show me that he loves me, and my friends and those who walked the journey with me love me, because of grace and not because of performance … Walking and running by faith and not by sight is much better than fighting the battles." (japan1million, Paralympic Prayer Meeting, September 4, 2021)
Pray that God would continue to use Anika's testimony and the testimonies of many other Para-lympians to share God's grace with people.
---
(If you are interested in more stories from these missionaries, just email me and I'd be happy to forward you the link to be added to their email list.)
May our Sovereign God comfort us and may we comfort others as we walk through this broken world full of sin and misery.
Thank you for praying for me, I am praying for you too,