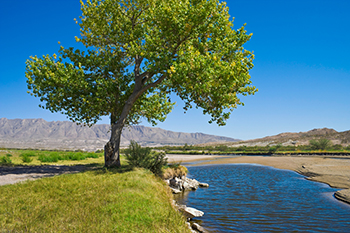 "Blessed is the man who trusts in the Lord,
whose trust is the Lord…
We are living at a time when there are many things that can challenge our faith. Among our daily lives we encounter people who think that Biblical teaching not only is no longer relevant in our society, but wrong in that it doesn't view all behaviors as acceptable. We risk being viewed as inappropriate by challenging a biological male for wanting to use a ladies' restroom. Our objection to our children and grandchildren viewing television shows and popular movies or having books in their school libraries that make sexual relations among teens seem normal are considered outdated. Having a belief that it is wrong to kill an unborn child is viewed as disrespectful to the rights of women. We can be mocked for sharing that we pray for guidance.
It is a challenging time to be a Christian which is all the more reason why being strongly rooted in our faith is important. Just as a tree that has strong roots can withstand harsh conditions and bear good fruit, we can do the same when we commit our lives to Christ. Our roots are strengthened when we pray and meditate on God's word, actively participate in our faith community, connect with other Christians, share with others how our relationship with Christ impacts our lives, and trust in Him for guidance. Chances are it won't always be easy and comfortable, but it will enable us to face the challenges with strength, bear fruit, and be assured of spending eternity with Him.
… He is like a tree planted by water,
that sends out its roots by the stream,
and does not fear when heat comes,
for its leaves remain green,
and is not anxious in the year of drought,
for it does not cease to bear fruit."
(Jeremiah 17:7-8)