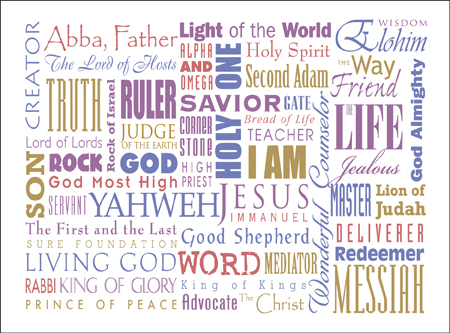 God the Shepherd
"By day the Lord went ahead of them (The Israelite) in a pillar of cloud to guide them on their way and by night in a pillar of fire to give them light, so that they could travel by day or night." (Exodus 13:21).
"And he said, "Hagar, slave of Sarai, where have you come from, and where are you going?" "I'm running away from my mistress Sarai" she answered." (Genesis 16:8).
This is a complex name of God points to the many things which "God the Shepherd" makes available for each one of his children through his grace.
God the Guide
This is one of God's attributes which leads us in his victory march; and we find this in Psalm 23 after David became king; and may be in his last days also. I can imagine that there was a small room in the palace where David kept all his memorabilia and things he owned when he was a shepherd boy: The staff, the rod, the bag, and may be some smooth stones which were left over after he killed Goliath, as well as the sling which he used against this giant. David used to go to this room to recite some of the Psalms he used to sing :
The Lord is my shepherd, I lack nothing. He makes me down in green pastures, he leads me beside quiet water.

He refreshes my soul. He guides me along the right path for his name's sake.

Even though I shall walk through the darkest valley, I will fear no evil, for you are with me; your rod and your staff, they comfort me.

You prepare a table before me in the presence of my enemies. You anoint my head with oil, my cup overflows.

Surely your goodness and love will follow me all the days of my life, and I will dwell in the house of the Lord forever.

Psalm 23 (ARBVDV)
God The Protector, The Keeper
"Whether you turn to the right or to the left, your ears will ear a voice behind you, saying: This is the way; walk in it" (Isaiah 30:21-22).
"Forget the former things; do not dwell on the past. See, I am doing a new thing! I am making a way in the wilderness and streams in the wasteland" (Isaiah 43:18-19).
The best reference for this is Psalm 91 about protection from death: "Whoever dwells in the shelter of the Most High will rest in the shadow of the Almighty. I will say of the Lord. He is my refuge and my fortress, my God in whom I trust. He will cover you with his feathers, and under his wings you will find refuge" (Psalm 91:1-4) (As the chicken gathers her checks under her wings; as if saying to her attacker: You hve to kill me first before you touch my checks, even though the chicken is weak but she gives her checks protection and power).
Satan can not reach you: ". . . . for whoever touches you touches the apple of his (God) eye" (Zechariah 2:8). See also, Psalm 91:4-6). ". . . His faithfulness will be your shield and rampart. You will not fear the terror of night, nor the arrow that flies by day, nor the pestilence that stalks in the darkness, nor the plague that destroys as midday" Also, Psalm 91:7 to 9, "A thousand may fall at your side, ten thousand at your right hand, but it will not come near you. You will only observe with you eyes and see the punishment of the wicked. If you say, the Lord is my refuge, and you make the Most High your dwelling."
When we say to him "Jehovah Rohi" and dwell under his wings, "No harm will overtake you, no disaster will come near your tent. For He will command his angels concerning you to guard you in all your ways, they will lift you up in their hands, so that you will not strike your foot against a stone" (Psalm 91:10-12).
Finally watch the promise in verse 14, "Because he loves me, says the Lord, I will rescue him, I will protect him for he acknowledged my name "Jehovah Rohi". He will call on me and I will answer him; I will be with him in trouble, I will deliver him and honor him. With long life I will satisfy him and show him my salvation" (Psalm 91:14-16).
God the Patron, The Friend, The Responsible
In fact the true meaning is that "God is the Sponsor" completely on your behalf in all matters: economically, socially, and spiritually.
1) The Economical side: Psalm 37:16-17 "Better the little that the righteous have than the wealth of many wicked for the power of the wicked will be broken, but the Lord upholds the righteous." Also, Psalm 37:25 "I was young and now I am old, yet I have never seen the righteous forsaken or their begging bread." Also, Psalm 34:10 "The lions may grow weak and hungry, but those who seek the Lord lack no good thing." Also, Psalm 35:27 "May those who delight in my vindication shout for joy and gladness; may they always say: The Lord be exalted, who delight in the well being of his servant." The word "well being" in Greek means "financial richness" too.
In the 3rd letter of John and verse 2 "Dear friend, I pray that you may enjoy good health (to be rich) and that all may go well with you, even as your soul is getting along well." Let us look at those men of God mentioned in the Bible and what the word of God says abut them. In Genesis 13:2, about Abram "Abram had become very wealthy in livestock and in silver and gold." About Job in his book 1:3 "And he (Job) owned seven thousand sheep, three thousand camels, five hundred yoke of oxen and five hundred donkeys, and had a large number of servants. He was the greatest among all the people of the East."
As we go back to Genesis 26:12-13, We see the spirit of the Lord talks about Isaac, "Isaac planted crops in that land and the same year reaped a hundredfold, because the Lord blessed him. The man became rich and his wealth continued to grow until he became very wealthy."
Also, in 2nd Samuel 5:10 we read: "And David became more and more powerful because the Lord God Almighty was with him. And also king Solomon, 1st kings 3:11-13 "So God said to Solomon, since you have asked this (wisdom) and not for long life or wealth for yourself, nor have asked for the death of your enemies but for the discernment in administering justice. I will do what you have asked. I will give you a wise and discerning heart, so that there will never have been anyone like you, nor will there ever be. Moreover, I will give you what you have not ask for – both wealth and honor – so that in your lifetime you will have no equal among kings."
2) The Social side: In the Middle East, the idea of having God as your friend, seems strange but the Bible said in 2 Chronicles 20:7 about the land " I gave it forever to the descendant of Abraham your friend." Also, in Exodus 33:11 "The Lord would speak to Moses face to face as one speaks to a friend." The Lord said about Abraham, Genesis 18:17 "Then the Lord said: Shall I hide from Abraham (my friend) what I am about to do? When God wanted to destroy Sodom and Gomorrah, and his nephew was living there.
Psalm 23:5 "You prepare a table before my enemies" It means that you are the first and the last friend." Proverbs 18:24 "One who has unreliable friends soon comes to ruin, but there is a friend who sticks closer than a brother (Our Lord Jesus Christ). To this friend, says Isaiah in 43:1-2 "But now, this is what the Lord says: He who created you, Jacob, he who formed you; Israel: Don't fear for I have redeemed you; I have summoned you by name; you are mine. When you pass through the waters, I will be with you, and when you pass through the rivers, they will not sweep over you. When you walk through the fire, you will not be burned, the flames will not set you a blaze." Finally, Isiah 40:29-31 "He gives strength to the weary and increases the power of the weak. Even youth grow tired and weary and young men stumble and fall; but those who hope in the Lord will renew their strength. They will soar on wings like eagles; they will run and not grow weary; they will walk and not be faint."
3) The Spiritual side: We have to depend completely upon the Lord and not ourselves, as we read in Proverbs 3:5-8 "Trust in the Lord with all your heart and lean not on your understanding; in all your ways submit to him and he will make your paths straight. Do not be wise in your own eyes; fear the Lord and shun evil. This will bring health to your body and nourishment to your bones."
In Zechariah 4:6 "Then the spirit said to me: This is the word of the Lord to Zechariah: Not by might nor by power; but by my spirit, says the Lord Almighty."
We are on continuous spiritual war behind the scenes… We read in 2nd Chronicles 20:15 "He said: Listen, King Jehoshaphat and all who live in Judah and Jerusalem! This is what the Lord said to you: Do not be afraid or discouraged because of this vast army. For the battle is not yours, but God's." and continues in verse 16 "Tomorrow march down against them. They will be climbing up by the Pass of Ziz,and you will find them at the end of the gorge in the Desert of Jeruel. You will not have to fight this battle. Take up your positions; stand firm and see the deliverance the Lord will give." because simply we live by faith and not by sight. The Lord gave a big victory to the Israelite, and they did not loose any soldiers!!
If God is with us who is against us!!?
"The Lord is the stronghold of my life – of whom shall I be afraid? When the wicked advance against me to devour me, it is my enemies and my foes who will stumble and fall. Though an army besiege me, my heart will not fear though war break out against me, even then I will be confident." (Psalm 27:1-3).
Our Lord Jesus Christ was called "The Shepherd" which it has four meanings:
The Lord is my shepherd (Psalm 23:1)
The Good shepherd (John 10:13)
The Great shepherd (Hebrews 13:20)
The Chief shepherd (1 Peter 5:4)
Scripture verses are from the Arabic Van Dyck Bible Translation (ARBVDV)

NFW – 04/28/2022 #16
---
"The Names of God" Bible Study meets on Thursday at 1:30 pm. ALL ARE WELCOME!