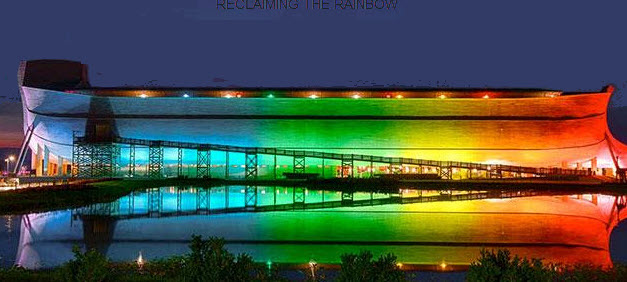 In Genesis 9:12-17 we learn that the rainbow is God's creation – It's a reminder of His everlasting covenant with mankind1 — not a symbol of man's self-affirming pride to promote a self-centered lifestyle2
God said to Noah, "This is the sign of the covenant that I have established between me and all flesh that is on the earth." Gen 9:17 ESV
Let not sin therefore reign in your mortal body, to make you obey its passions. Romans 6:12 ESV
Two views of claiming the Rainbow of God
Man's Wokeism* vs Biblical Creation
Excerpts from an Associate Pastor of a local Presbyterian Church USA – Celebrating LGBTQ+ Pride
I place this [six-colored] rainbow flag upon our communion table, as a sign of recognition. A recognition of pain that has been caused — a sign of our deep regret and sorrow. We lament that many faithful followers of Christ have been excluded from service in ministry, or had to remain silent about the fullness of who they are. It is a sign of thanks for the persistence of those who worked for change. It is a sign of forgiveness that has been graciously granted, a sign of reconciliation – a continuing witness of how we are in Christ together and that there are no divisions between us. And it is a sign of promise — that we can continue to grow in love, working towards a greater justice not only in the church but in our communities and in the world.
Dorothy Boulton is Associate Pastor of a local Presbyterian Church USA, where her main ministry areas include working with the Christian Education committee (children, youth, and family ministries). This church proclaims we are part of the Covenant [Presbyterian] Network, working for the unity of the church by furthering the inclusion of LGBTQ+ persons.
God created the rainbow and it belongs to Him. God's rainbow has seven colors. Interestingly, according to Strong's Dictionary, even the word "rainbow" has seven letters (qesheth). God's rainbow represents His goodness, His mercy and grace, His love and longsuffering, and, most of all, it is a reminder that His promises are true and faithful. The true rainbow will never represent, nor can it ever celebrate, any sinful behavior.
I hope you'll never look at the LGBT flag in the same way again. It is NOT a rainbow flag, falling short with only six colors. And it certainly does not represent God's rainbow. The LGBT community uses a multi-colored flag that falls short in every way….especially in what it represents.
Excerpts from Ken Ham – Answers in Genesis
As Bible scholar John Gill states concerning the rainbow, "as it has in it a variety of beautiful colors, it may represent Christ, who is full of grace and truth, and fairer than the children of men; and may be considered as a symbol of peace and reconciliation by him, whom God looks unto, and remembers the covenant of his grace he has made with him and his chosen ones in him; and who is the rainbow round about the throne of God, and the way of access unto it."
A Reminder for All of Us
So, the next time you see a rainbow, remember that God judges sin. He judged with a global flood at the time of Noah. But He is merciful, and He made a covenant of grace with Noah and the animals that He would never again judge with a worldwide Flood. Not only that, but the rainbow, as a symbol of Christ, reminds us that He is the mediator between man and God and that those who receive the free gift of salvation are presented faultless before their Creator.
God declares those redeemed who have trusted in Christ. They are clothed in the righteousness of His Son. For the redeemed, the wrath of God toward sin was satisfied on the Cross—paid in full by the shed blood of His sinless Son.
And as John Gill puts it, "though it is a bow, yet without arrows, and is not turned downwards towards the earth, but upwards towards heaven, and so is a token of mercy and kindness, and not of wrath and anger."
---
20 Woe to those who call evil good
and good evil,
who put darkness for light
and light for darkness,
who put bitter for sweet
and sweet for bitter!
21 Woe to those who are wise in their own eyes,
and shrewd in their own sight!

Isaiah 5:20-21 ESV
---
* Wokeism has been called The New Religion of the West