The Committee's Mission Statement:
LRPC Children's Ministry exists to glorify God and help the entire body of Christ to assist families in raising their children to be lifelong disciples of Jesus Christ, so the next generation will know, believe, and tell of "the glorious deeds of the Lord" and "set their hope in God" (Psalm 78: 4, 7).
LRPC CM Ministry VIDEO from News Station LRPC78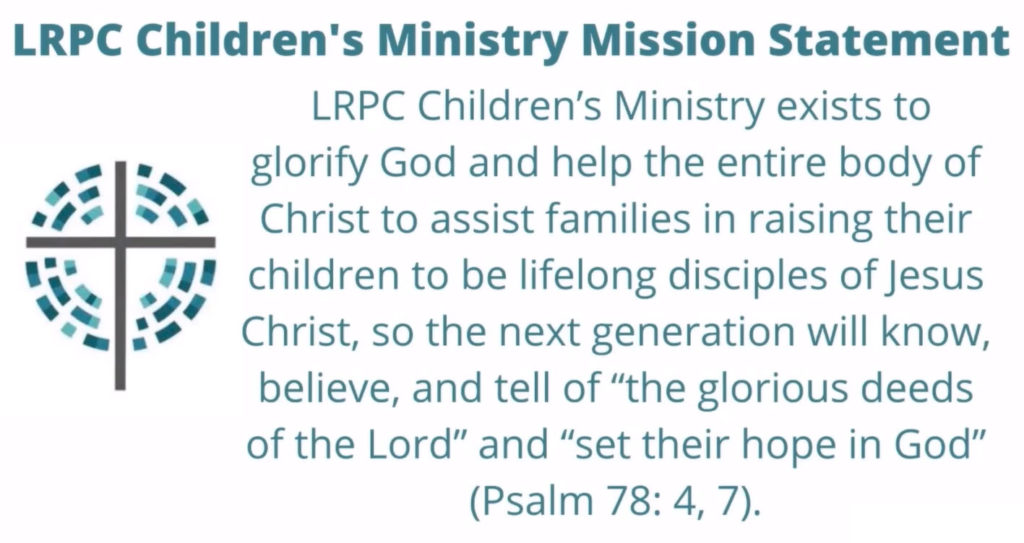 The goals of this ministry are to:
Trust God to fulfill His covenant promise to save His children, helping children understand the work of the Holy Spirit to change hearts leading to salvation by grace alone, through faith alone, in Christ alone (Eph. 2:8); not only understanding that Jesus is Savior, but that Jesus is Lord and requires obedience as children grow into Godly young men and women demonstrating the fruit that comes with salvation (John 15:8)
Train and equip children in Biblical literacy and Reformed Theology with the goal of delighting in God's inerrant Word (Psalm 1)
Help children understand their need to depend on God for all things and pray without ceasing (1 Thess. 5: 17)
Value children as part of the Body of Christ by assisting them in participating in corporate worship, service, and fellowship (1 Cor. 12: 27)
Encourage children to become cheerful givers of all their resources (2 Cor. 9), engaging in service to the church and the world as they spread the Gospel in word and deed
Foster personal and communal lifelong worship and communion with the triune God, through offerings of praise and gratitude for His holiness, grace, love, justice, and mercy (Col 3:16-17)
Support children in the process of sanctification as they run the race set before them (Heb. 12:1) with hearts that yearn for more of Him and less of themselves as they grow in Christ-likeness and find their ultimate worth in Him alone (Gal 2: 20)
---
Resources
Introducing the Heidelberg Catechism to Children from the PCA's Women Ministry Facebook blog post on – enCourage resources.
---
For more information contact Brea Duty
---
Children's Ministry | Children's Sunday School | Inquirer's Class | Kid's Story Time | Words of Encouragement